NEWS

January 2019: A new year full of projects: In March we will be giving two concerts in Spain (Saragosse and Pampelune).  We will then collaborate for the first time with the Orchestre du Capitole in Toulouse.  In April and May we will work, for the second time, with the Toulouse Sackbuts for a concert and CD recording of Spanish Renaissance music. And to end the season, we will be performing for the festivals of Rocamadour and Auch (Eclats de Voix). 
November 2017: The Maîtrise was awarded the Prix Bettencourt for choral music, presented by the Académie de Beaux Arts at the Institut de France on November 15th.
October 2017: The Maîtrise will perfom Gabriel Fauré's Requiem in Pamiers, the town of his birth as the final concert of the Festival Musiques au Pays de Gabruel Fauré
June 2017:  The Maîtrise de Tolouse has won the Liliane Bettencourt Prize for Choral Singing 2017 !  You can read the press release (in French) on our facebook and twitter pages.
May 2017: The Maîtrise has recorded a new CD with Regent Records: Slava!  which will be released in December.  The programme includes Stravinsky's mass, Kodaly's Laudes Organi  and works by de Penderecki, Łukaszewski, Bardos and Bartok. have a look at the photos of our recording sessions on our facebook page:
www.facebook.com/maitrisedetoulouse/
CD RELEASES

SLAVA !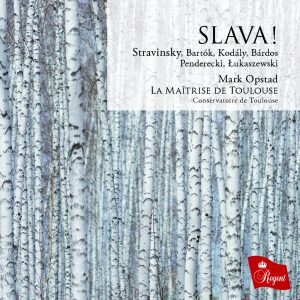 The choir's latest CD Slava ! has received glowing reviews including in the USA (Amercian Record Guide: "this choir is wonderful and deserves the accolades showered on it… they display a freshness and rhythmic alacrity that is uncommon.") and Great Britain (Organists' Review: "A thoroughly engaging and uplifting recording in every way. If I could give this six stars, I would!")
To order a copy please contact our association:
association.maitrisedetoulouse@gmail.com
NOËL FRANÇAIS

The choir's CD Noël Français has received 5 Diapasons in France from Diapason Magazine, who described the choir as the "revelation of the Maîtrise world of recent years" and four stars in the BBC Music Magazine, who called it an "utter pleasure".  The CD was also one of the 'essential releases' of the week in the Sunday Times and the featured CD for the programme 'Sacrées Musiques' on France Musique.